Fetch in 50 Indiana: Traffic, Basketball, and a Little Bit of Road Magic.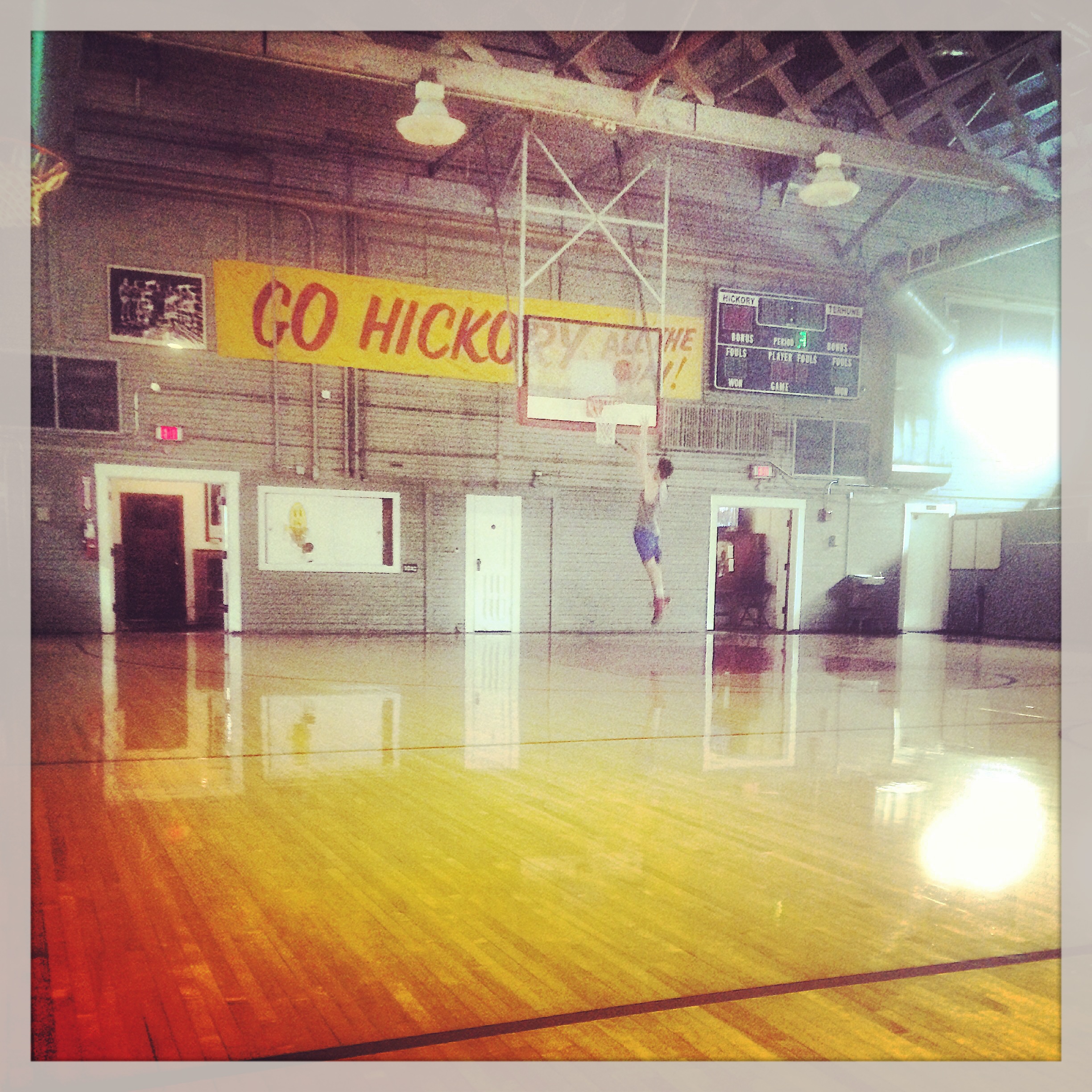 We were bumper-to-bumper on a two-lane highway an hour east of Indy. Tired of the pace, I exited at the rest stop for some much needed revitalization, and for Gus because, well, he's a lean, mean sniffing machine.
As we finished up our business, I studied the route ahead and noticed a small town I had circled on the map.  Knightstown.  Tiny print.  Didn't ring a bell.  The marking was from a year ago when we'd driven through Indiana, but not in this direction.  So I Googled it.
Knightstown is home to Hoosier Gym.  That's right!
It was used as the home court of the Hickory Huskers in the 1986 film Hoosiers starring Gene Hackman and Dennis Hopper, one of my favorites. And thanks to the traffic angels, we had paused in the knick of time as to not pass it up.  Game on!
Now, in most of Middle America, road signs are a definite luxury.  The first typically alerts you of the exit with an arrow pointing right or left.  In this instance, we turn right.  To find the second, well, just drive until told otherwise because distances aren't provided.  As if the road god's are inviting all to trust and let go.  Step away from the iPhone, we'll get you there big fella.
Et voila, a mere 15 minutes later we arrive at our destination.
From the outside, the gym is not what I'd envisioned.  I expected a school of some sort to encompass the scene.  Nope.  There she was, Hoosier Gym, alone in her Truth amidst a rural Indianan neighborhood – a cute, little brick building with old wooden doors and a pine tree to her right.
Since the making of the film, the entrance hall has been transmuted into a museum filled with jerseys and trophy cases, t-shirts and movie memorabilia. In one corner, Hoosiers plays in Blu-Ray, and in the center, the guest book brims with visitors spanning the globe.
And then, I step in…
Like an ambush on the soul, my imagination instantly goes wild.  I wasn't sure which vision pierced my heart first… was it the passionate small-town fans I saw cheering from the vintage bleachers?  Was it the spot of hardwood that I currently stood upon, the one where Jimmy beat the buzzer?
Maybe it was my view of the bench, the historic piece of wood where Coach Dale calmly, but authoritatively told the ref, "My team's on the floor," and deliberately played a man short.
There was magic here.  I could hear it.  I could see it.  I could feel it.  And I allowed myself to be completely swallowed by it.
And then, as if the scenario could emit any more enchantment, I notice something else…
On the far end of the court, two basketballs lay still on opposite sides of the hoop.  (Cue the wide eyes, drop the lower jaw).  You mean we can actually play in this basketball sanctuary?  Slowly I approach, as if too quick a movement could make them disappear.  They didn't.
And I shot…. and I shot…. and I shot.  
For 45 minutes, I was like Gus on the shores of the ocean with the grace of Jimmy' jump shot.  Everything went in. Free throws, three-pointers, and fadeaways.  It.  Was.  Magic.  One of "those" moments where the soul is afloat and all we have to do is step out of the way.
You can't plan it.  You allow it.
You don't make it.  You let it flow through you.
You need not a cape or a wand or a rabbit in a hat…. just a willing curiosity to participate in the Play.
For the brief amount of time I shadowed that hardwood, I opened myself so damn wide that something sacred underwent.  Nothing supernatural or out of the ordinary.  Just a raising of my energy that wound up matching the moment.  A magical one.
Deem life Magic.
It's everywhere.
onelove